A SELECTION OF ARTICLES AND INTERVIEWS FEATURING THE ARTIST:
Episode 3
Fer Caggiano takes us through her journey to America, being established as a Painter and what drives her to be successful.
Directed by Andrew Di Pardo
Written & Edited by Angela Di Pardo
Cinematography by Angelo Di Pardo
©2022 Moving Pictures Productions/ Sharp Shooter Productions
Cover Story at Moultrie News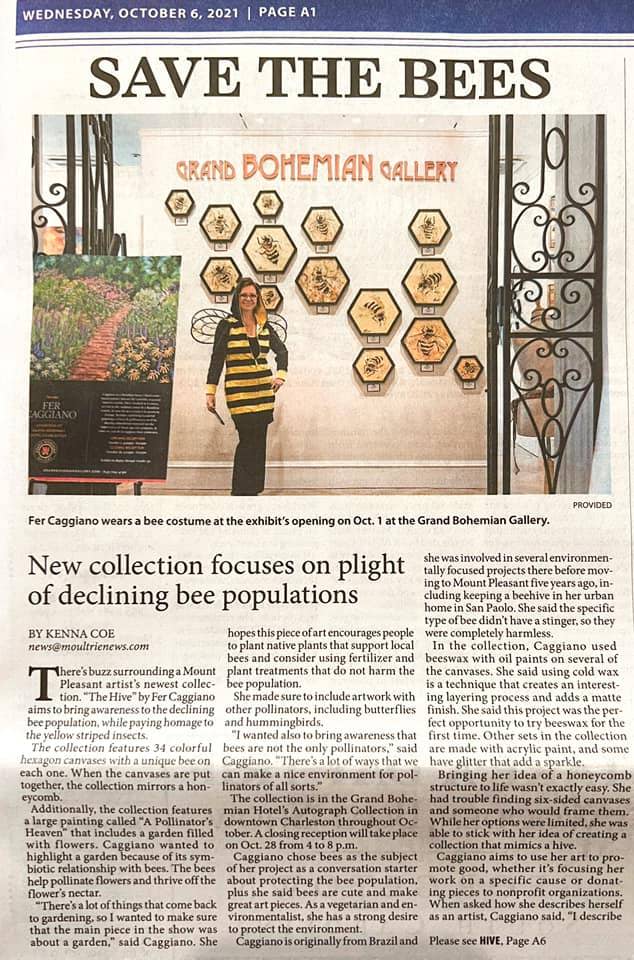 Moultrie News (inside page)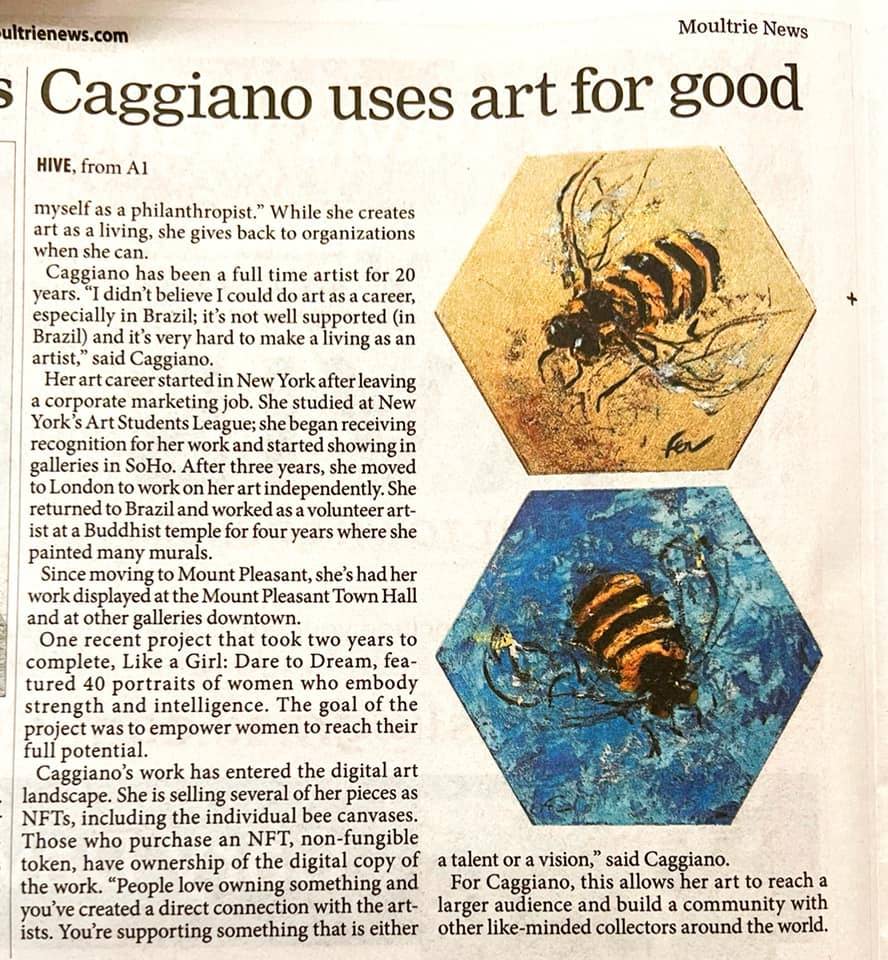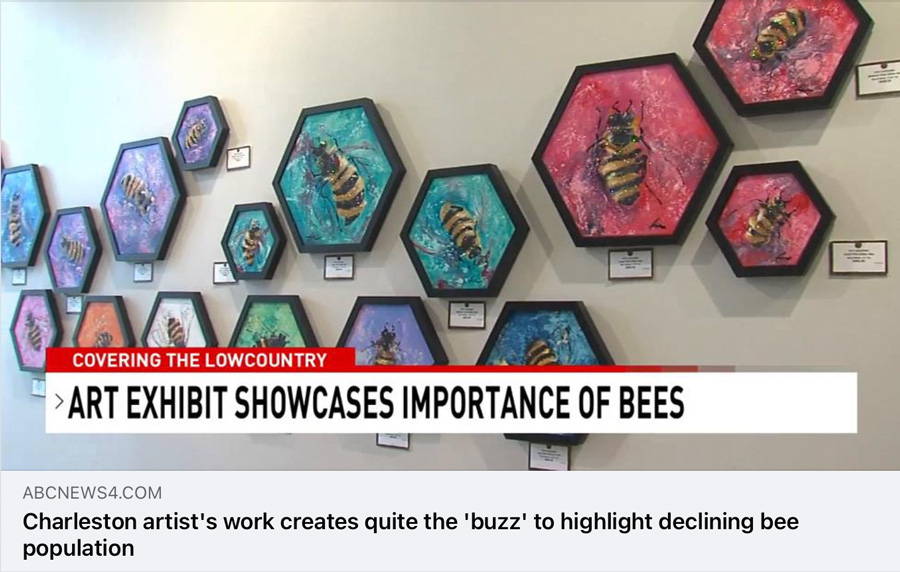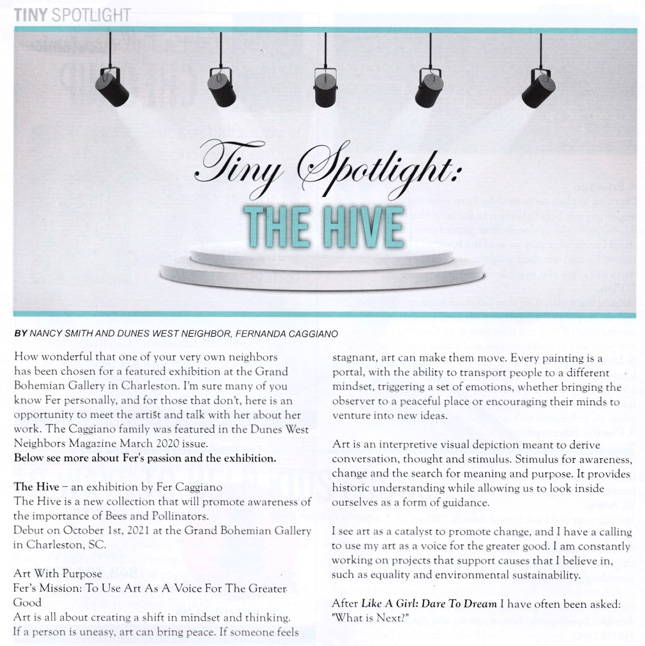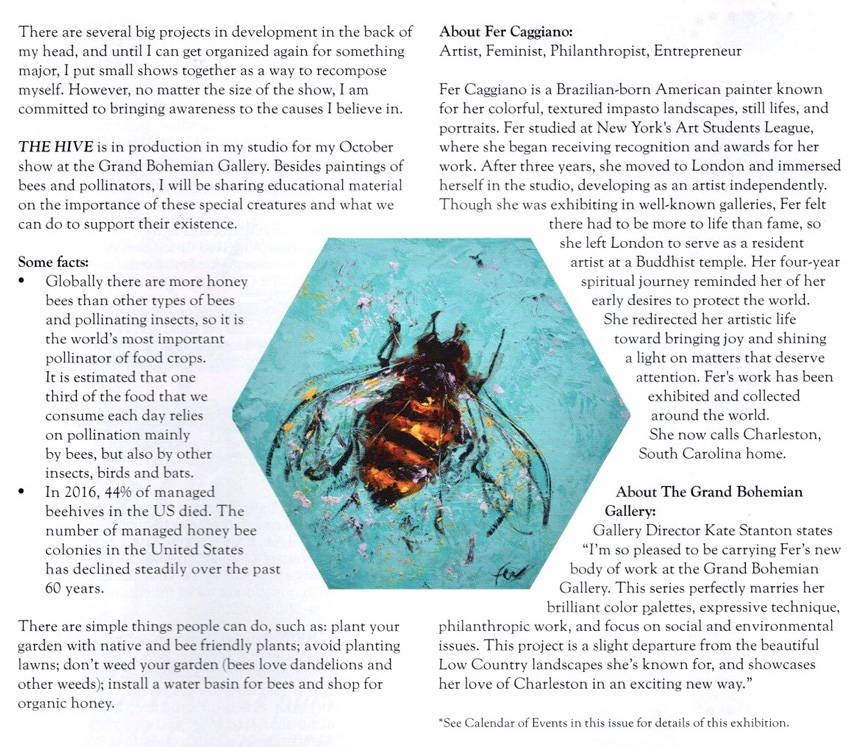 Charleston Style & Design Magazine

Artist Fer Caggiano debuts a solo show featuring portraits of strong women role models
BY ROBIN HOWARD
IT'S A MONDAY MORNING, and I am about to Zoom with artist Fer (pronounced "fair") Caggiano. I am excited about this call. Caggiano is not only talented, but she also makes art from a solid center of joy and purposefully uses her work to make the world a better place. At the bitter end of this brutal year, I am looking forward to talking to her because I know whatever she's been up to since our last chat, it's going to be good.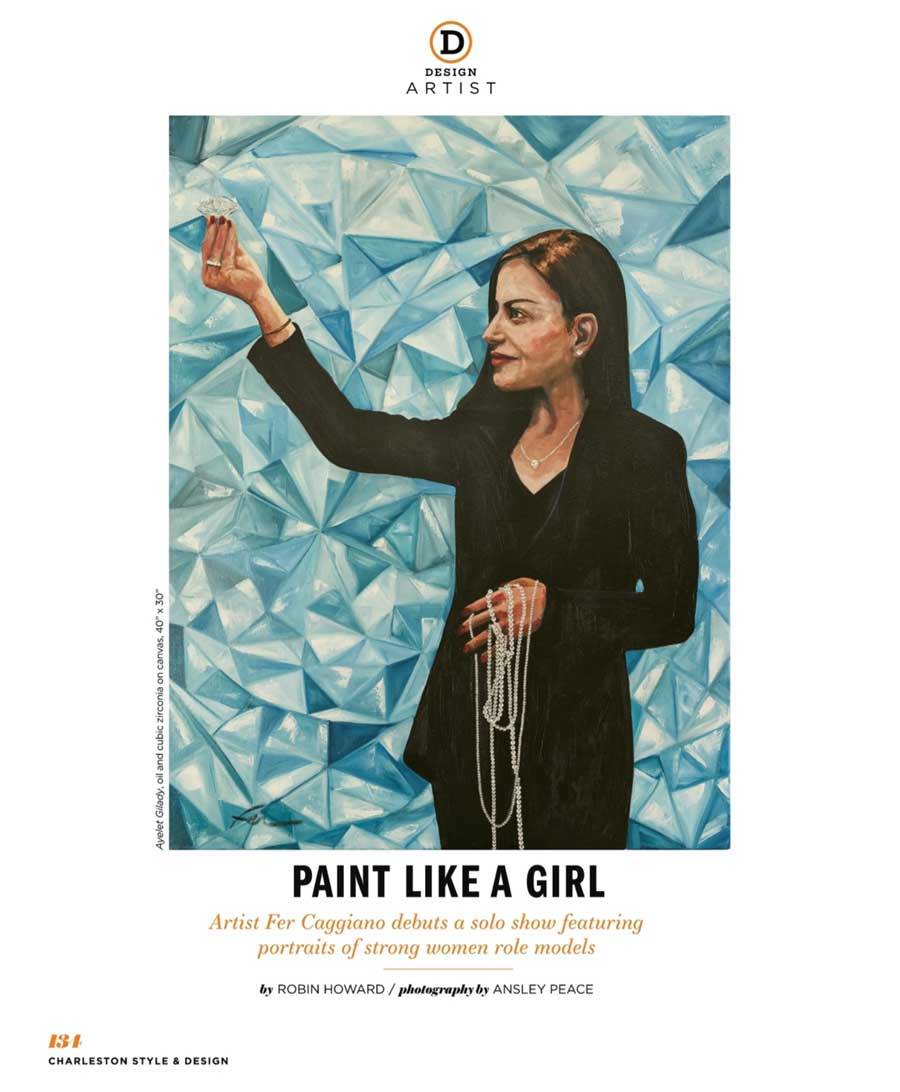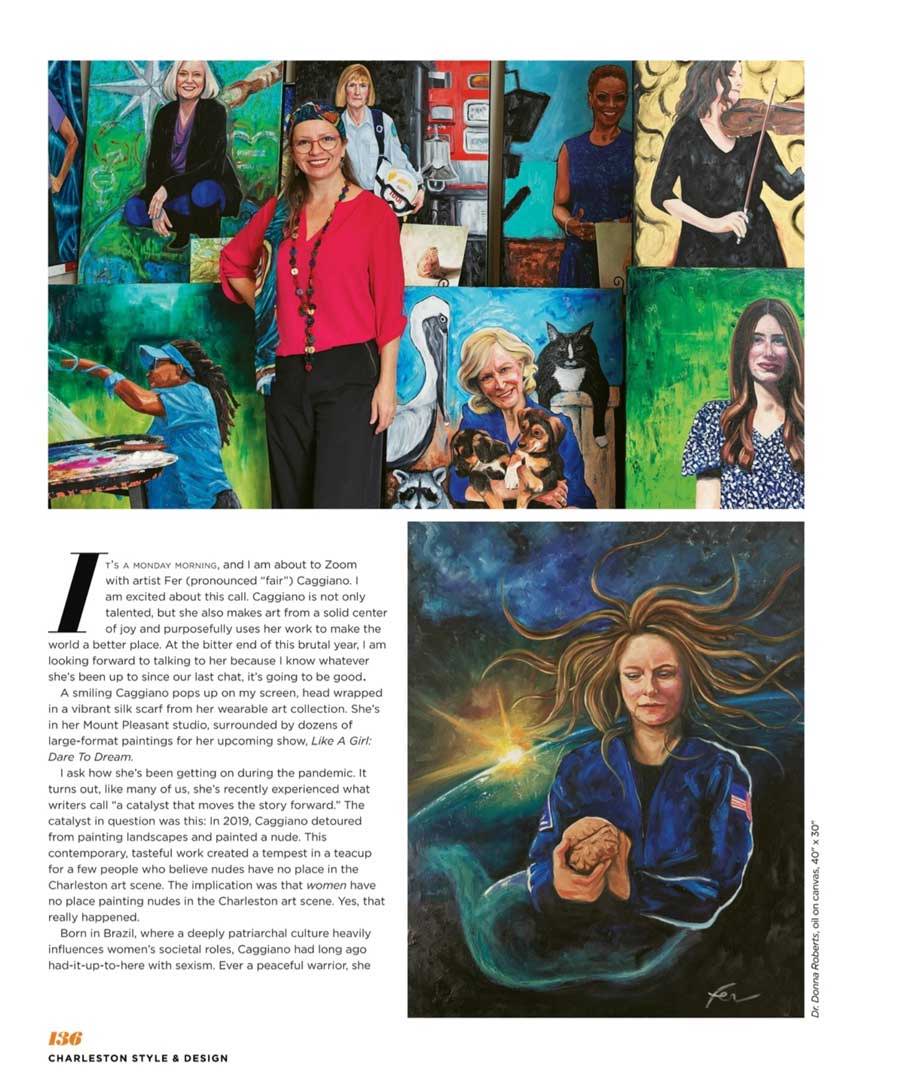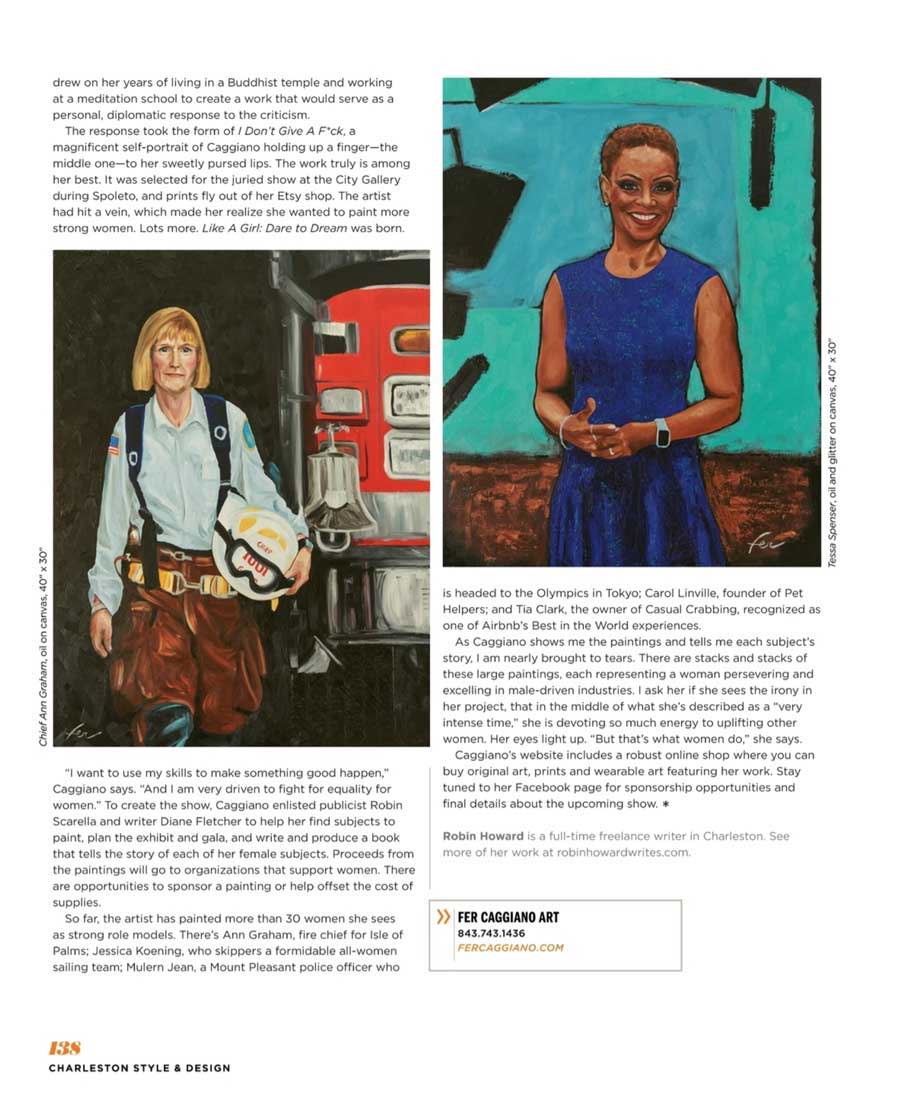 A Brazilian artist brings her bold vision to the Lowcountry
BY ANNE SHULER TOOLE
It's not often that a set of dental tools inspires a career other than dentistry, but for Fer Caggiano, it was one of the many catalysts that sparked her passion for art. As a child, she used her grandfather's old dental tools to sculpt designs in pieces of chalk.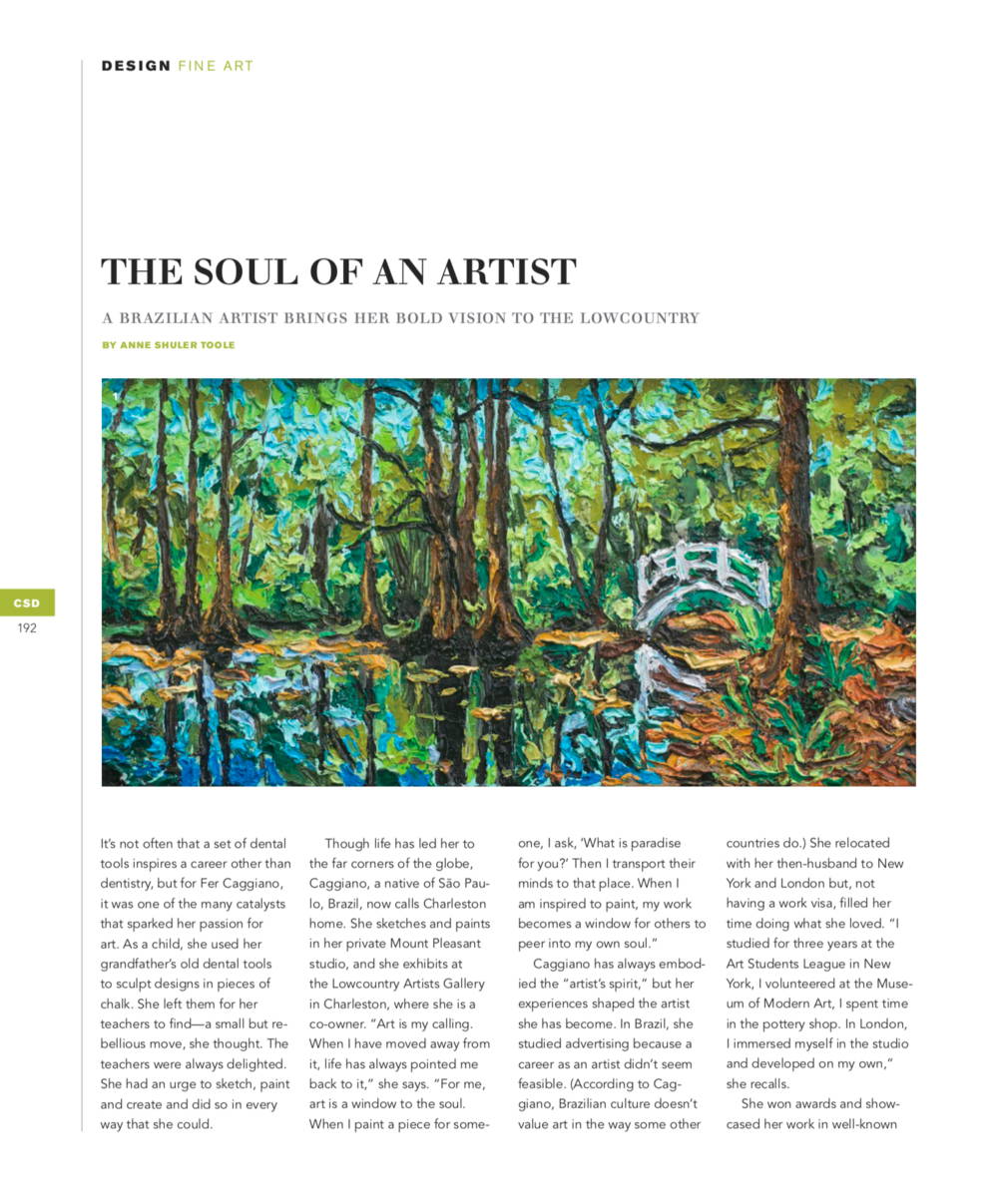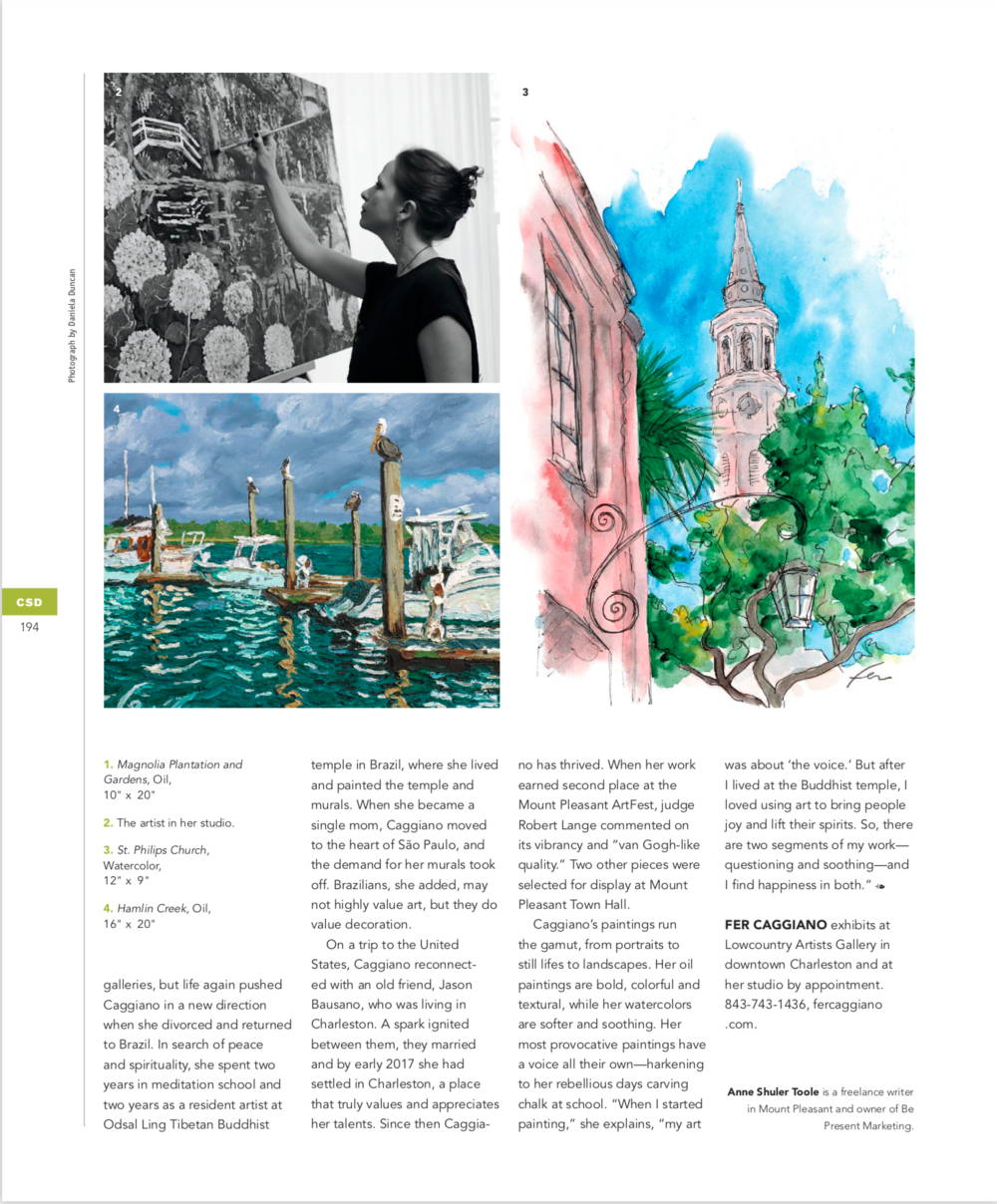 Launched in 1979 by the City of Charleston's Office of Cultural Affairs, the event presents a varied program that includes visual art exhibitions, classical music, jazz, dance, theater and choral music, as well as cultural events and community celebrations.
Fer Caggiano's Art opens the Article and is presented as the opening interview also.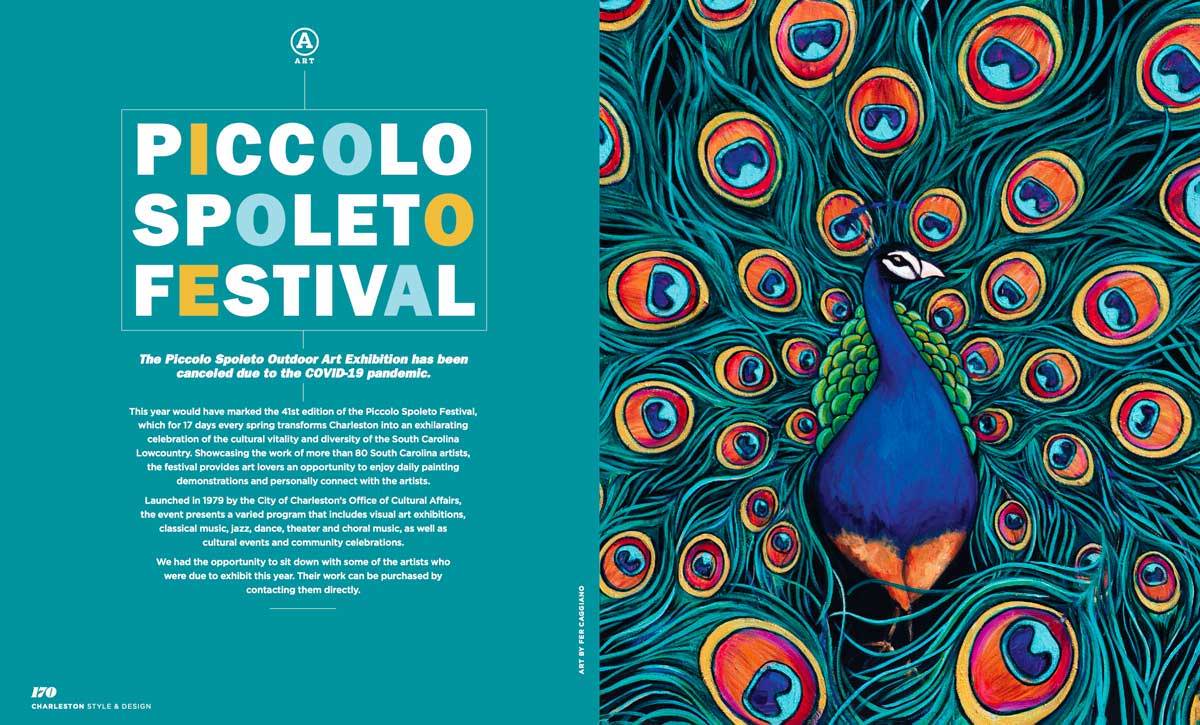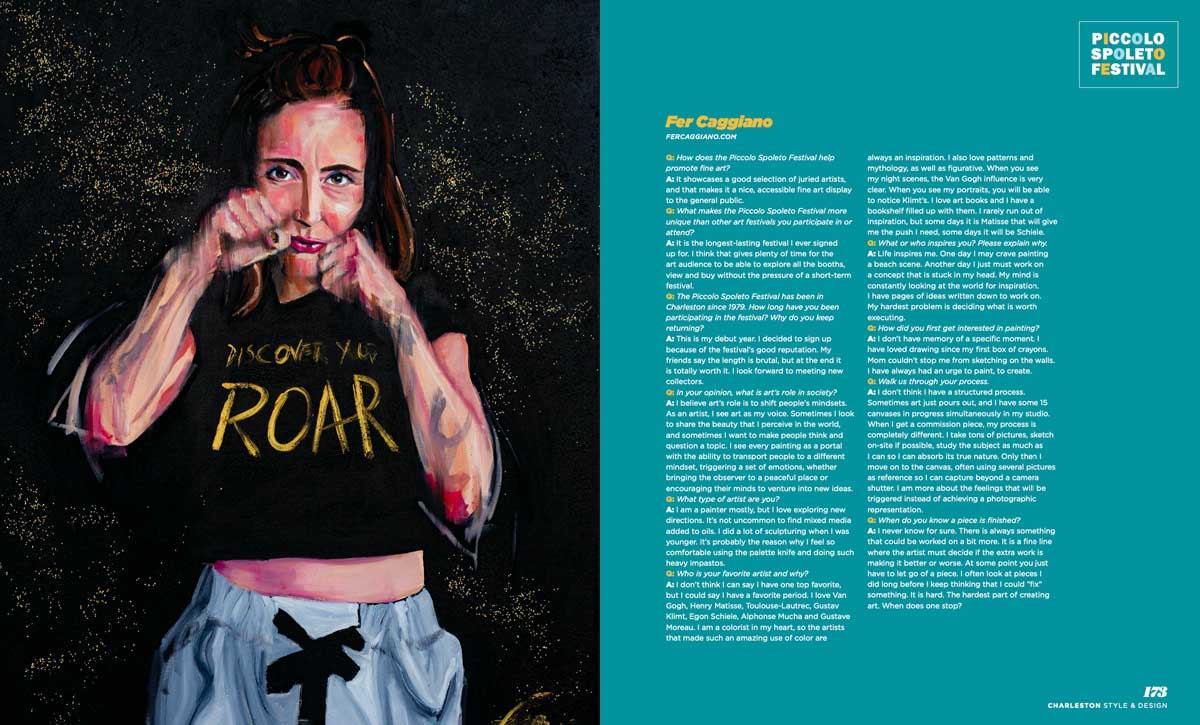 Fer Caggiano's project celebrating the heroic achievements of 40 remarkable women, who have transcended life's challenges to create a legacy of inspiration, got a lot of media attention. Here are some interviews done with the artist about the project and her vision.
Artist, philanthropist, and entrepreneur Fer Caggiano joins Eric Cox and Leslie Haywood for this episode of #beyondthebusiness!
Beyond The Business: The People You Know, The Stories You Don't.
Hear a new episode every Saturday 7:30 – 8:00 am on 94.3 WSC in Charleston, SC & IHeartRadio.
The first part covers the childhood and cosmopolitan upbringing of Fer. With expertise in marketing and a knack for entrepreneurship, Fer has fueled her artistic expression with a motivation for positive global change.
On the second part, Fer stresses that it is an imperative for entrepreneurs to stay focused on their vision and mission. Not getting constantly bogged down by potential future roadblocks is a key for sustainable creative energy. Being an artist and a business owner is emotionally demanding- Fer offers some words of wisdom and resources to help.
Fer has been featured in Charleston's premier daily newspaper on numerous occasions. The articles highlight her most recent projects, products, and gallery appearances.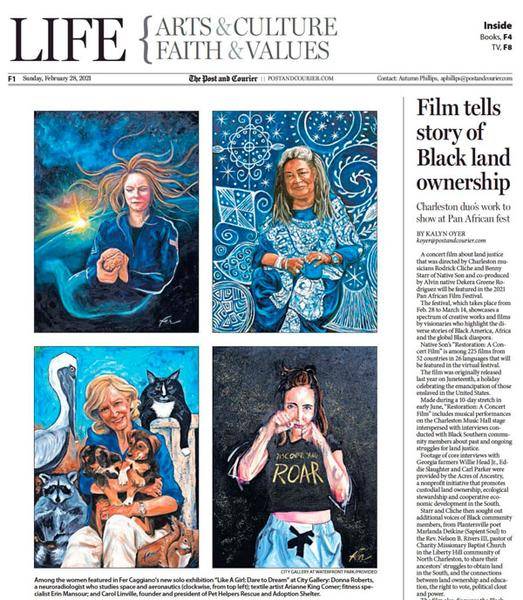 Against the odds - February 28, 2021
Can you love pearls and combat boots? In a new exhibition, a Charleston artist asks, 'Why not?'
From The American Art Collector
"I see art as my voice," she says. "Sometimes I look to share the beauty that I perceive in the world and sometimes I want to make people think and question a topic. I see every painting as a portal, with the ability to transport people to a different mindset. Triggering a set of emotions, whether bringing the observer to a peaceful place or encouraging their minds to venture into new ideas."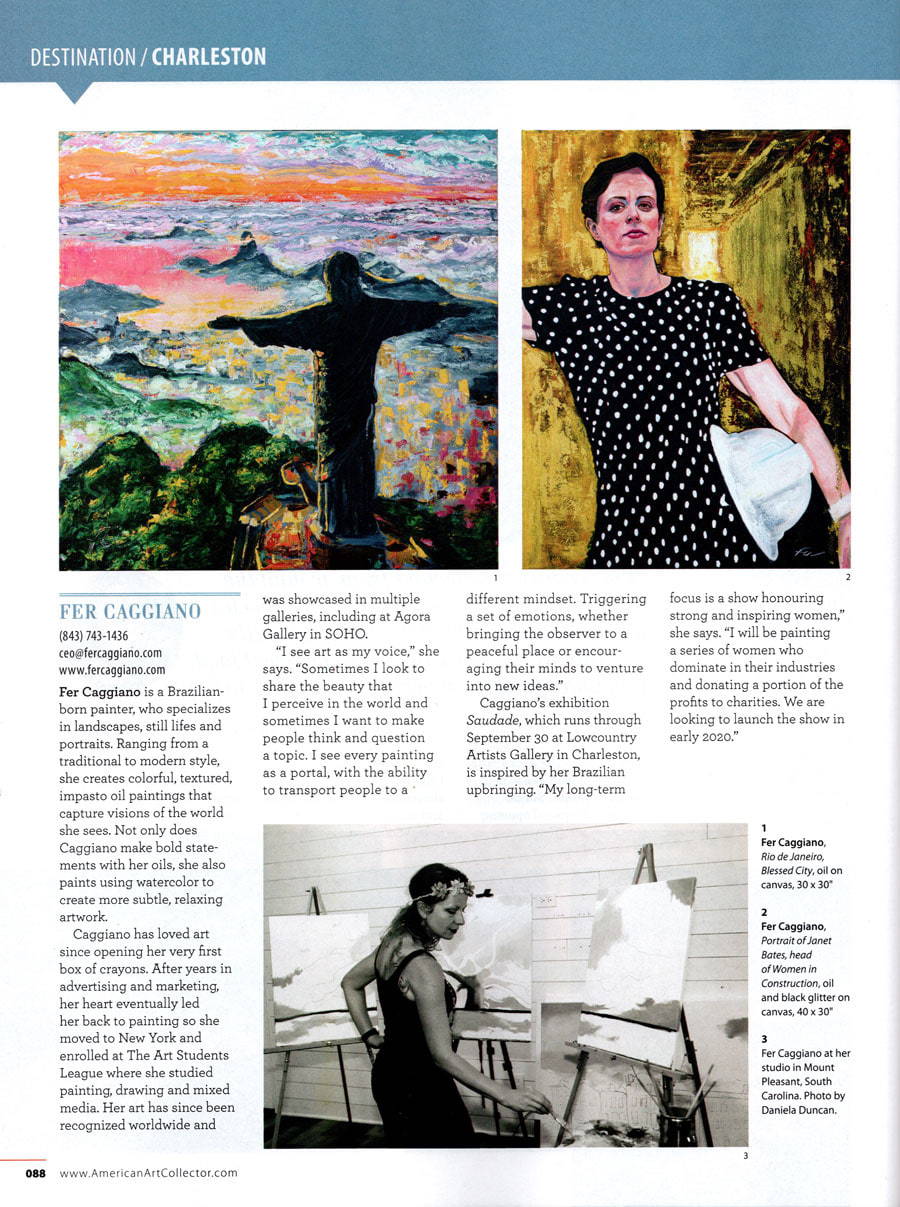 INTERNATIONAL RECOGNITION
Interview with the artist regarding the Solo Exhibition at the Hotel Intercontinental in São Paulo, Brazil.
Explore Fer's full list of exhibitions, awards, and education from around the globe!
Stay up to date and discover a running compilation of all artist press appearances